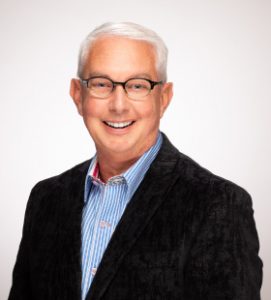 George Eifler, DDS, MS
Prosthodontist
Dr. Eifler hails from the Yukon! Specifically, Yukon, Oklahoma, a suburb of Oklahoma City, where he was raised by his father, an engineer, and his mother, an elementary school teacher. He has never been afraid to work hard and started early at age eight. From bagging groceries, balling and burlapping trees, landscaping houses, mowing lawns, washing and waxing new cars, and working in a hospital as a phlebotomist, he has been always had a job. Shy by nature, he later gained confidence in who he was and fell in love with school and academics.
Dr. Eifler attended the University of Oklahoma and graduated with his Doctor of Dental Surgery in 1987. From there, he completed an intense general practice residency at the county hospital in Denver, Colorado. Service to others has always been an important part of his life and following his residency, Dr. Eifler joined the US. Navy and served with the Marine Corps in southern California. He joined his fellow service people overseas serving in Operation Desert Storm and Desert Shield, where he treated not just injured American and allied soldiers but enemy combatants who had complicated dental and facial needs. He left the service as a highly decorated veteran.
Not content with his DDS, Dr. Eifler returned to school, this time for postgraduate work at the University of Texas Health Science Center in San Antonio. He earned his Master of Science while serving as an instructor at the dental school and completing an advanced degree in prosthodontics.
Dr. Eifler has a passion for dentistry and recognizes the impact it can have on a patient's life, including how they interact with other people. He takes the time to listen to his patients' fears, concerns and needs. He also understand the responsibility he and our team have in helping our patients overcome oral health and aesthetic issues. No matter if he is replacing a single crown, relieving your discomfort or addressing a complicated dental concern, Dr. Eifler will work with you to meet your needs.
Dr. Eifler values collaboration and the work done by his peers in the dental and medical fields. On a daily basis, we work with patients who have issues such as diabetes, bleeding disorders, eating and digestive disorders and organ transplants. He believes in making everyone, including you, an integral member of your care team.
Dr. Eifler's commitment to service extends to the people of Phoenix and the surrounding areas. He donates his time, skills and money to organizations such as the American Red Cross, St. Vincent De Paul Society, The Salvation Army and St. Thomas the Apostle. He is also an active member of the advisory board for the State of Arizona Victims Compensation Fund. He maintains professional memberships in the American College of Prosthodontists and several local study clubs.
Dr. Eifler has been married to his wife, Lisa, for over 26 years and they have three young adult sons. On those rare occasions when he has time for himself, he looks forward to being with his family, traveling and manicuring his yard. He finds relaxation in yard work, trimming trees and manicuring his yard. It is therapeutic for him. His growing love of all things food has intensified with cooking lessons, downloading recipes, trying new foods and monitoring the food channel in his spare time. Seeking more adventures, experiences and making a difference are what drives him. He has donated his time with the Maricopa County Board of Victim's Right for 20 years and served as Chairman for the last three years. He feels truly blessed with his life, profession, community and family.